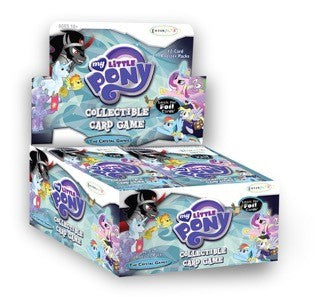 Out Of Print
MLP CCG Crystal Games Boosters 36-Pack
$ 125.64
This product is unavailable
These Boosters will not be in display box. They are from bulk production, which is same collation as booster boxes.
Crystal Games is the second expansion for the My Little Pony Collectible Card Game.  Look for new gameplay, new main characters, great content and stunning new foil cards.  36-pack Booster Box.  12-card packs with a foil card in every 4th pack!  Build decks around one of the Mane characters and build a separate problem deck.  Race to solve (yours and your opponent's) problems to earn points.  First person to 15 points wins. This is an advanced and strategic card game, suggested for 10+. Order yours today to help ensure you have this on the street date, December 5.
This game requires each player to have a 45-card Draw Deck and 10-card Problem Deck. Mane Pony Cards are required for play, some of which are only in Theme Decks or 2-Player Starter Sets.
 To see the complete Crystal Games card checklist Click Here