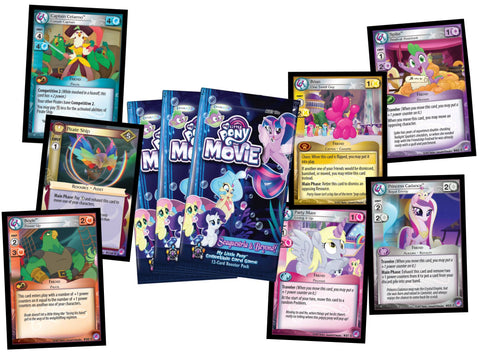 Out Of Print
MLP CCG Seaquestria & Beyond Boosters
$ 3.49
This product is unavailable
Players will love the gameplay and fun in this stunning expansion set for the My Little Pony Collectible Card Game, Seaquestria & Beyond! This exciting 140+ card expansion features characters and scenes from My Little Pony: The Movie - look for new gameplay mechanics, the debut of keywords "Traveler" and "Transform," six Mane Characters based on brand new MLP Movie characters, and fan-favorite movie scenes, friends, and foes brought to life on Event, Resource, Problem, Friend and Troublemaker cards!

For Complete Set Checklist Click Here
Seaquestria & Beyond highlights:
All-new keywords!

Traveler: Each time Travelers move around, they get more and more powerful
Transform: Some Friends can transform into a new card with an action token discount! 

Movie Highlights!

New characters as Friends and Troublemakers and memorable scenes relived!

The Mane Six preparing the Friendship Festival, The Storm King's reign of terror, Tempest Shadow's invasion, and much more!

Six new Mane Characters!

Tempest Shadow, Capper, Captain Celaeno, Princess Skystar, Capper Dapperpaws, Grubber, and Queen Novo!
Packs Include:
12 Collectible Cards
1 Rare, 3 Uncommon, 8 Common Cards
Foil-stamped Cards appear approx. 1:9 packs
Please Note: there are no holographic foil cards in this expansion set. Ultra Rares and Royal Rares will be foil-stamped for special effect.
In the MLP CCG, players build decks around one of the Mane Characters and build a separate Problem deck. Race to solve (yours and your opponent's) Problems and earn points. First person to 15 points wins. This is an advanced and strategic card game, suggested for ages 10+. MLP CCG requires each player to have a 45-card Draw Deck and 10-card Problem Deck. Mane Character cards are required for play, some of which are only in Theme Decks, 2-Player Starter Sets, and Pack Drafters.