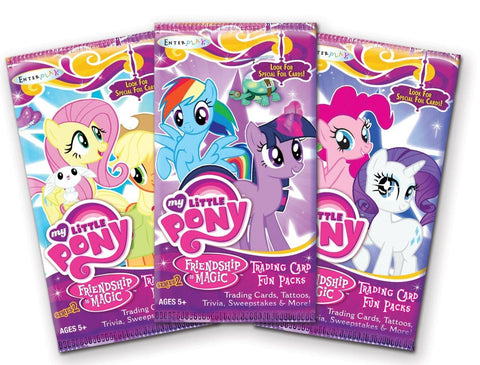 Out Of Print
MLP Series 2 Trading Card Fun Packs
$ 5.97
This product is unavailable
30 Packs
There's great fun for fans of all ages!  Series 2 builds on the exciting and highly collectible series of Enterplay's fun packs based on the incredibly popular TV series, My Little Pony: Friendship is Magic™.  Look for special gold foil cards, trivia, and lots more!
 Each Pack includes 
4 Assorted Trading Cards
1 sweepstakes code*
1 FunTat® Tattoo Card
Either 1 Foil Card,1 sticker, or 1 Pop-up Standee**
 * No purchase necessary, www.enter-play.com for sweepstakes rules and details on how to enter without purchase.
** Foils appear approx. 1:2 packs, Stickers and Standees each appear in approx. 1:4 packs.
To see complete Series 2 checklist Click Here