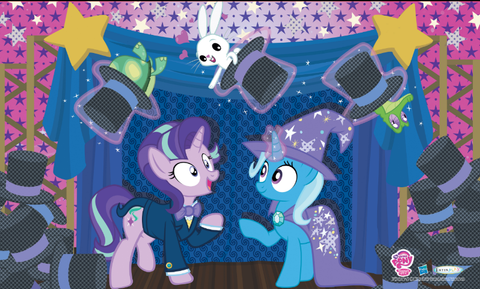 Sale
MLP Poster - 3D "Magic Show" Trixie & Starlight
$ 19.99

$ 12.99
This stunning My Little Pony Friendship is Magic 3D poster features The Great and Powerful Trixie and her assistant Starlight Glimmer putting on a show -- and with four layers of depth, this poster is truly magical! Designed exclusively for Enterplay by the artist Pixelkitties.
This is not paper! It is the same plastic material used for special lenticular trading cards.
Approx. Dimensions:  24.25" x 14.5"
International customers: This item is not available internationally with standard shipping rates, due to the extreme expense of shipping the large box. This is a Lenticular printed poster and can not be folded or rolled.