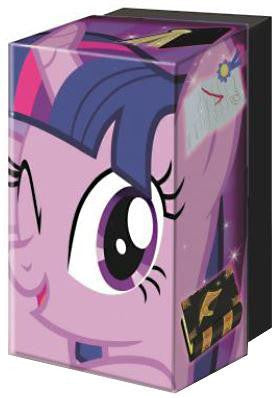 Out Of Print
MLP Collector's Box Set - Twilight Sparkle
$ 10.00
This product is unavailable
What can we say about this box—it's royally awesome! Princess Twilight Sparkle brings a touch of magic to any player's deck with this special collector's box. The box contains a special Twilight Sparkle Card, 2 Canterlot Nights Booster Pack, a Premier Booster Pack, a special sticker to light up whatever you place it on, and a poster. Make your collection sparkle with the addition of Princess Twilight Sparkle Collector's Box!  
Contains:
Princess Twilight Sparkle: Cutie Mark Consultant #4F Foil Card
2 Canterlot Nights Booster Packs
1 Premier Booster Pack
1 Special Sticker
Poster
Inside dimensions:  Approx. 2.5" x 3.5" x 5.75"
Outside dimensions: Approx. 2.75" x 3.75" x 6"
Box holds up to approximately 400 loose cards